My birthday was last weekend. It was pretty perfect- Meg and I woke up early, got a yummy breakfast to go, and then went to bunches of garage sales. We went to a plant sale where both of us got around a dozen small to median plants each for cheap. I returned after garage sale shopping to an adorable birthday cake left on my doorstep in a cooler. Amy baked me the most delicious cake..no exaggeration. Check out the recipe
here
for the chocolate amaretto cake.
I went to Lowe's and bought a piece of material (not exactly sure what it is- but it's not wood..it was in the $7-$8 price range for an 8ft piece of it) and bought a quart of chalkboard paint. I painted about 20 coats (ugh) of the chalkboard paint and here is the result in our kitchen: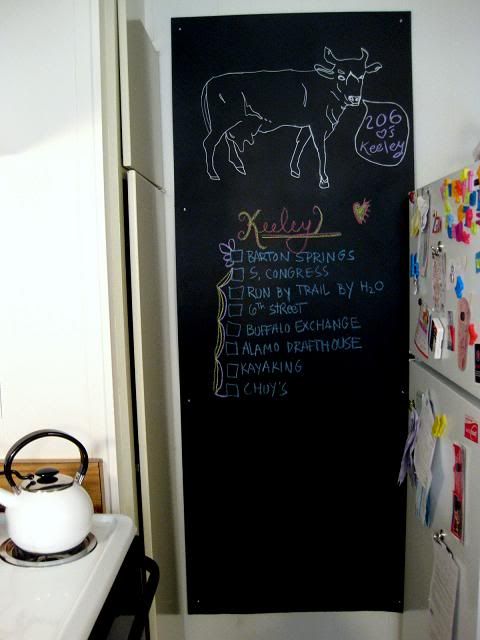 A little background: My best friend Megan moved to Austin a day after me! One of our mutual best friends, and a former roommate in college, is coming to visit us tomorrow! We started a list of things to do with her in Austin.