logo
Thursday, August 26, 2010
Rosemary grows wild all over Austin; I love it!
Last summer Eric and I took a bunch of fresh rosemary and a chunk of parmesan cheese and threw it into my magic bullet grinder. We ground the cheese and the rosemary and added it to mashed potatoes (lightly buttered). YUM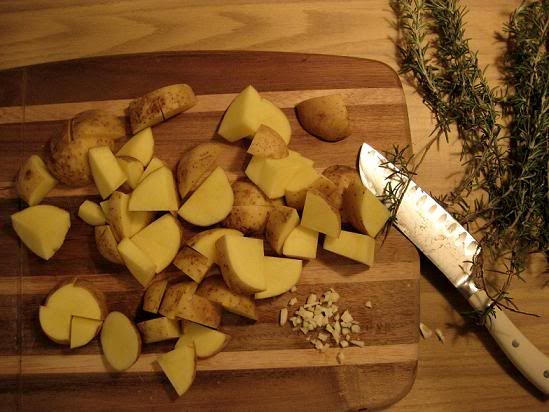 A week ago we made these but used pecorino romano. also YUM
Posted by

Monica
at 9:44 PM
0 comments

Posted by

Monica
at 9:37 PM
2 comments

oopsie..I haven't updated a while.

It's not that I haven't thought about it, but I've been incredibly busy. I have made one thing since the last post which is worth posting. I'll save it and post it soon.

Everything has been a bit of a whirlwind since moving to Austin including having Meg living in the apartment for a bit, having Keeley visit, having Eric move in, and then returning to work (a new work!). I finished my first week of teaching at my new home, HTU. First weeks are generally crazy anywhere, but in particular since it's a new school for me. I'm pretty wiped out.

In a teacherly fashion:

(1) I LOVE Austin.
(2) I'm obsessed with my apartment and neighborhood. Oh! I'll post apartment pictures. Check the next post.
(3) I think I'm going to love my new job. The faculty and staff are super welcoming and the school is home-y. My students also seem fun and my class sizes are small.
(4) It's going to be another couple weeks before things get slowed down enough to be posting more often. I'm itching to make stuff though so it can't be too long..

Happy Fridays will resume starting tomorrow.
Posted by

Monica
at 9:16 PM
2 comments

Wednesday, August 4, 2010
My birthday was last weekend. It was pretty perfect- Meg and I woke up early, got a yummy breakfast to go, and then went to bunches of garage sales. We went to a plant sale where both of us got around a dozen small to median plants each for cheap. I returned after garage sale shopping to an adorable birthday cake left on my doorstep in a cooler. Amy baked me the most delicious cake..no exaggeration. Check out the recipe
here
for the chocolate amaretto cake.
I went to Lowe's and bought a piece of material (not exactly sure what it is- but it's not wood..it was in the $7-$8 price range for an 8ft piece of it) and bought a quart of chalkboard paint. I painted about 20 coats (ugh) of the chalkboard paint and here is the result in our kitchen: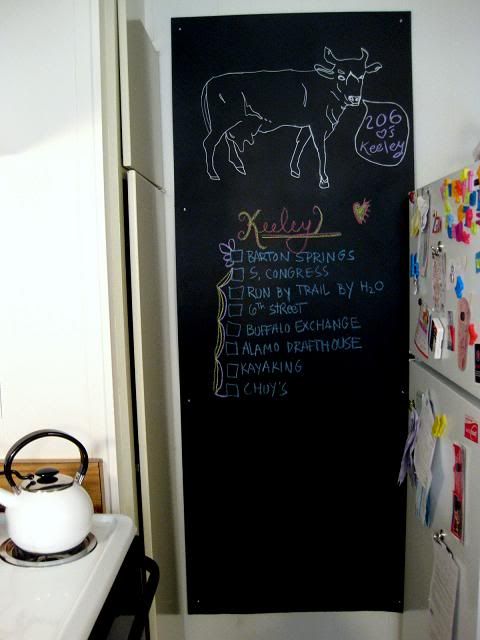 A little background: My best friend Megan moved to Austin a day after me! One of our mutual best friends, and a former roommate in college, is coming to visit us tomorrow! We started a list of things to do with her in Austin.
Posted by

Monica
at 2:24 PM
4 comments


Labels: diy