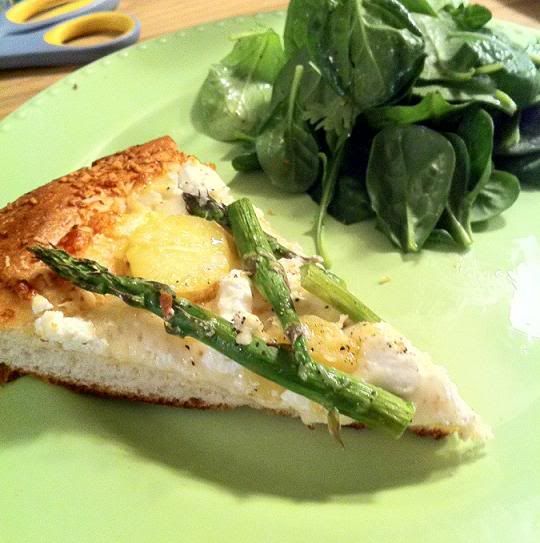 Asparagus, Fingerling Potato, and Goat Cheese Pizza
5 ounces fingerling potatoes
Cornmeal (for sprinkling)
Pizza Dough
2 tablespoons extra-virgin olive oil, divided
1 garlic clove, pressed
4 green onions, thinly sliced, divided
1 1/3 cups grated whole-milk mozzarella cheese (about 6 ounces)
4 ounces soft fresh goat cheese, crumbled
8 ounces asparagus, trimmed, each spear cut in half lengthwise, then crosswise into 2- to 3-inch pieces
1/2 cup grated Parmesan cheese
Place potatoes in small saucepan. Add enough water to cover by 1 inch. Sprinkle with salt. Bring to boil and cook until potatoes are tender, about 10 minutes. Drain. Cool. Cut potatoes into thin slices.
Preheat oven to 450°F. Sprinkle rimless baking sheet with cornmeal. Roll and stretch pizza dough to 16x11-inch oval. Transfer to baking sheet. Mix 1 tablespoon olive oil and garlic in small bowl. Brush garlic oil over dough. Sprinkle 3/4 of green onions over, then mozzarella, leaving 1/2-inch plain border. Top with potato slices and goat cheese. Toss asparagus and 1 tablespoon oil in medium bowl. Scatter asparagus over pizza. Sprinkle with Parmesan, then lightly with salt and generously with pepper.
Bake pizza until crust is browned and asparagus is tender, about 18 minutes. Transfer to cutting board. Sprinkle with remaining green onions. Cut into pieces.
**
Note if you aren't using raw dough (our local grocery store sells awesome partially baked pizza dough), then the timing will be off and your crust will become really crispy before your asparagus is roasted. You'd probably want to cook your asapargus for a couple minutes before putting onto the pizza you put in the oven. Your baking time would probably cut down to around 12 minutes.
***
(Recipe: Bon Appétit, May 2009, by Jeanne Thiel Kelley)